Welcome to The Catholic Café.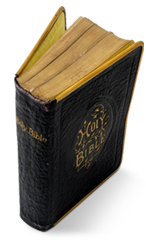 Join us in the "luxurious corner booth" of The Catholic Café as host Deacon Jeff Drzycimski and co-host Tom Dorian engage a variety of guests in conversation about the teachings of the Catholic Church. Each week we'll premier a new, thirty-minute radio program focusing on one of many Catholic beliefs.
Click LISTEN to hear current and past shows, which are indexed by topic. Or, you can sign up for a free, weekly podcast of The Catholic Café. Also, the LINKS tab will direct you to several great resources to help answer any questions you may have about the Catholic Faith. Click CONTACT to ask us a question or make a comment.
If you are Catholic, we hope that the time you spend in The Catholic Café is spiritually uplifting and helps you grow in your faith. If you are not Catholic, we invite you to explore the Catholic Church, and prayerfully think about becoming part of our family. If, for whatever reason, you have been away from the Church, we invite you to consider that God might be calling you home.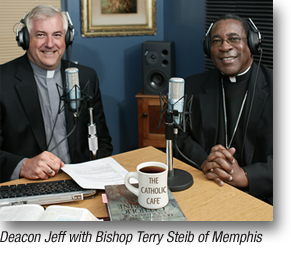 The Catholic Cafe, Inc. is incorporated in Tennessee as a not-for-profit corporation, under the umbrella of the Diocese of Memphis for tax-exempt purposes. It's board members and officers are all members of the Order of Malta serving with the approval of the Bishop of Memphis. The mission of The Catholic Café, Inc. is to reach out to non-Catholics and fallen-away Catholics with positive, high quality radio and Internet programming to faithfully present Catholic teaching and follow up with personal outreach when requested. We wish to invite all people to consider joining us in the Catholic Church.
The Catholic Café…there's always room for one more at our table.
The Catholic Cafe, Inc. is brought to you by the Order of Malta Federal Association.
home | about | order of malta | hosts | listen | donate | links | contact | site map
© 2013 The Catholic Café, Inc.